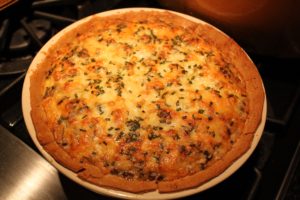 Broccoli. Mushrooms. Cheddar cheese. Chives. Need I say more? When the kids are home from school, snowed in by another New England storm, it seems I cannot cook enough! So, I searched the fridge and found some leftover steamed broccoli, shiitake mushrooms, and a brick of cheddar cheese. We always have eggs hanging around. Luckily, I had frozen pie crust so this all came together very quickly. Quiche can be eaten for breakfast, lunch or dinner. Alone or with a salad. Hot or cold. So versatile! So here is one of my faves. As I say often, this is a method. Keep the eggs, cream and spices the same and add your own veggies if you don't like broccoli and/or mushrooms. Leftover potatoes? Spinach? Asparagus? Throw them in! The important thing is to cook, from scratch, for your family. You'll feel good, because you're feeding them healthy, unprocessed food, from the heart!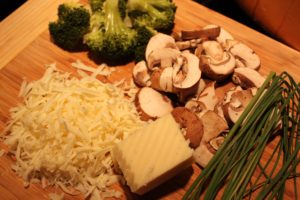 1 pie crust (if you don't have your own, use Pillsbury)
3 eggs
1 1/2 cups heavy cream
salt (to taste)
pepper (to taste)
1/2 tsp. ground mustard
2 cups chopped shiitake mushrooms
1 1/2 cups chopped broccoli (cooked)
1 1/2 cups shredded cheddar cheese
3 tbsp. chopped fresh chives
Preheat oven to 375. Line a pie plate with pie crust.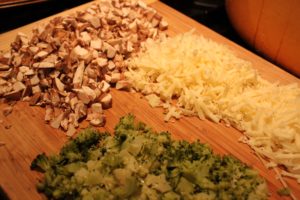 In a medium bowl, beat the eggs. Add the heavy cream, salt, pepper, and ground mustard. Mix until incorporated and set aside.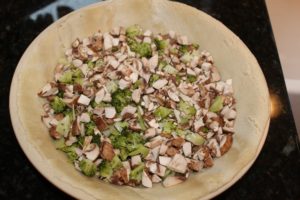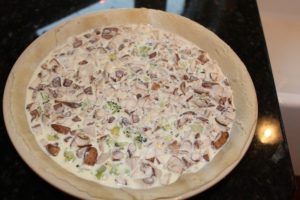 Arrange the broccoli and mushrooms in the bottom of the crust. Pour the egg mixture over the vegetables.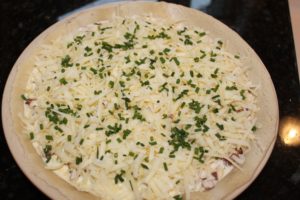 Top evenly with the shredded cheese. Sprinkle the chives on top. Bake for 40-50 minutes until golden brown on top and set in the middle. Let sit for 10 minutes or so before slicing. 🙂