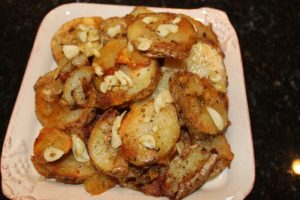 My husband I have been lucky enough to travel to Italy. On our first trip, we ate at a wonderful restaurant in Florence called Two Sisters. They served these incredible potatoes that I have been trying to duplicate for years. I think I finally have it! This recipe is perfect for using up extra baked potatoes, so next time you make them, throw a few extra in the oven so you can make this super simple and incredibly delicious side! The key to imparting the potatoes with the utmost flavor is to use a really high quality flavored olive oil. I used The Olive Tap's Tuscan Herb Olive Oil. Use your favorite, or try something new! If you use regular old olive oil, you will be missing out on flavor.
If you don't have leftover baked potatoes, wash, dry, and pierce several times with a fork 3 Idaho Russets. Put in a microwave safe plate or bowl and cook on high for 5 minutes. Turn over and cook for another 5 minutes. Now you're ready to begin the recipe!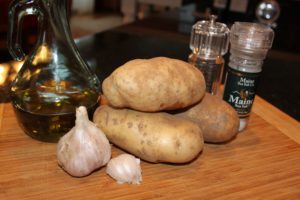 3 fully cooked large Idaho Russet Baking Potatoes
3 cloves garlic, sliced thin
salt and pepper to taste
3 tbsp. dried parsley, crushed
1/2 cup Tuscan Herb olive oil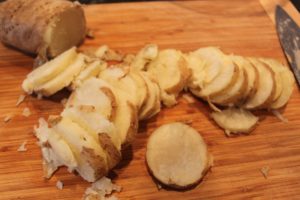 Slice potatoes about 1/4″ thick. Arrange in single layer in large bowl.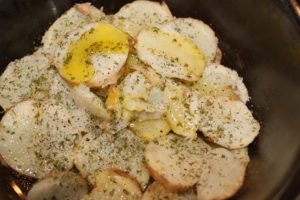 Season with salt, pepper, and 1 tbsp. parsley. Drizzle olive oil over the potatoes and repeat with layers until all potatoes are seasoned.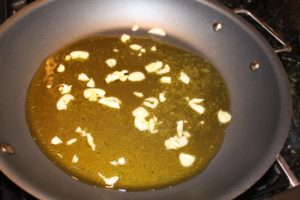 In a large skillet over medium heat, pour in the olive oil from the marinated potato bowl. Add the sliced garlic and saute 30 seconds to impart the flavor. Remove immediately with a slotted spoon and set aside.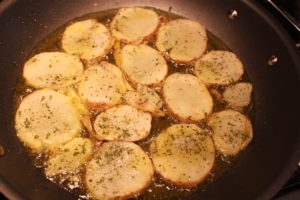 Add the sliced potatoes in a single layer. Allow to cook without moving the potatoes, about 5-7 minutes. This will allow a nice crisp crust to form. Make sure they are nice and golden brown before you turn them! You will be rewarded for your patience!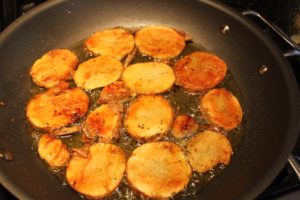 Turn potatoes and cook, untouched, until done, another 5 or so minutes. Drain on paper towels. Sprinkle with kosher salt. Repeat until all the potatoes are cooked. Drizzle with a bit of olive oil before serving. Garnish with the sliced garlic.
This weekend, I am serving these potatoes alongside my Memorial Day grilled lamb chops and ribeye steaks. Corn on the cob and a nice green salad round out the meal. Happy Memorial Day!
Serves 4 as a side dish. Enjoy!