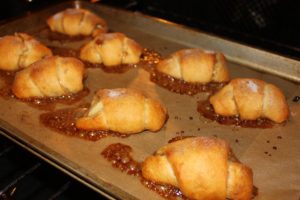 It's Pi(e) Day! March 14th (3.14, get it??). So, we are eating various versions of pie today. Twist my arm! It also happens to be our fourth snow day this school year, so the kids are home and we are all hunkered in.
This recipe is quick to prepare and uses minimal ingredients (for example, one apple makes eight mini pies!) so it'll leave you plenty of time to play board games, clean out a closet, or whatever else makes you happy on a day off snowbound with the kids! We ate these for breakfast this morning with salted caramel gelato. It is, after all, a snow day! Why not make it fun!!
1 granny smith apple, peeled, cored and sliced into 8 pieces
1 package crescent rolls (I used Pillsbury)
1 tbsp. butter, cut into 8 equal pieces (I made 2 equal slices, then slices each piece into 4 slabs)
3 tsp. sugar
3/4 tsp. ground cinnamon
1/4 tsp. allspice
8 tbsp. dark brown sugar
1/4 cup chopped walnuts
Preheat the oven to 375. Line a large cookie sheet with parchment paper. In a small ramekin, combine the sugar, cinnamon and allspice.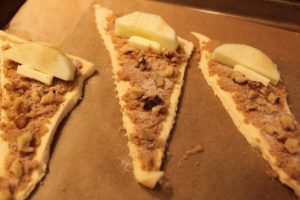 Unroll and separate the crescent rolls along the perforations (I did 4 at a time so I could contain the mess and roll them on the cookie sheet. Spread 1 tbsp. brown sugar on each crescent roll. Place an apple slice at the top of the crescent roll (opposite the point). Place a slice of butter in front of the apple (toward the point). Sprinkle with the sugar mixture. Top with a few of the chopped walnuts.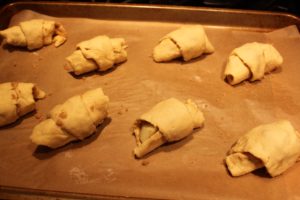 Roll, starting at the apple end. Some sugar will fall out. Just stuff it back into one of the ends! Repeat with all 8 crescents. Sprinkle the tops with the sugar mixture. Bake 10-12 minutes until golden brown. Serve with a scoop of your favorite ice cream.