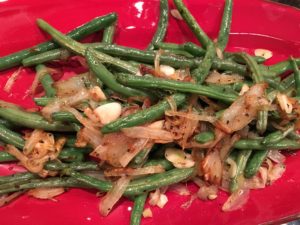 Okay, confession: I'm not a huge fan of green beans. I rarely cook them. This recipe was born out of desperation. Last fall, my husband's company embarked on a team-building exercise called The Whole Life Challenge, and we signed on. One of the components of the 8-week challenge was nutrition, with a long list of compliant and non-compliant foods. I was looking for a new veggie to add to the rotation and a star was born! A super-simple, super-fast side dish that is both healthy and delicious. How could you go wrong?? Seriously, people, you will have this side dish on the table in 20 minutes or less. While my hubby was outside grilling steaks, I whipped up this little number and a salad and voila! Dinner was served!
3 tbsp. Butter
3 tbsp. Olive oil
1 medium onion, sliced thin
2 garlic cloves, sliced super thin
1/4 tsp. Fresh cracked black pepper
12 oz. haricot vert (I used a microwave-right-in-the-bag type)
Heat the butter and olive oil in a large skillet over medium low heat. Add onions and a pinch of salt and pepper and sauté until caramelized, about 8 minutes. When the onions are nearly done, microwave your green beans for three minutes on high. Add the green beans, garlic, and pepper to the skillet. Cook for 2-3 minutes, stirring to combine all of the ingredients.
Serves 4 as a side dish.