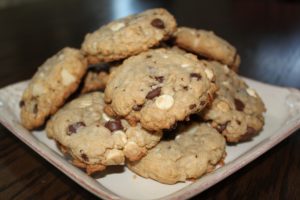 Okay, this is one ridiculous cookie. Ridiculous in a really, really good way. Here's what led me to write this recipe: nearly a decade ago, when my kids were really young (before Kindergarten) I would take trips to the mall in the winter so we could all get out of the house, walk them around, get a change of scenery, and maybe grab lunch there. Providence Place Mall has an indoor parking garage so even if the weather outside was frightful, it was super easy to get the kids into their strollers. On several occasions we ate at the Nordstrom Cafe. It has a great menu and a beautiful view of the State House and downtown. They had this cookie there, called the Royale. I fell in love! It was HUGE! The three of us would split it!! (Mine are about 1/3 of the size.) And it is just a wonderful combination of chocolate, coconut, nuts – wow. So I came home and started experimenting! And here's what I came up with.
I also love this recipe because it uses melted butter. I guess I was a bit anxious and didn't want to wait for the butter to come to room temperature! So, these can be made on a whim because you don't have to wait for that butter to become soft. Woohoo!
3/4 cup melted butter
3/4 cup dark brown sugar
3/4 cup granulated sugar
1 tsp. vanilla
2 eggs
2 1/2 cups flour
3/4 tsp. baking soda
1 tsp. salt
1 cup white chocolate chips
1 cup semisweet chocolate chips
1 cup chopped macadamia nuts
1/2 cup chopped chocolate covered almonds
3 1/2 oz. shredded coconut
Preheat oven to 350. Beat butter and sugars together until fluffy. Beat in vanilla and eggs, one at a time. In a separate bowl, whisk flour with baking soda and salt, then add to the butter mixture and mix until just combined. Add the rest of the ingredients and chill 30 minutes.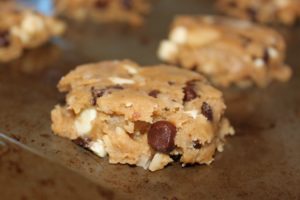 Scoop into medium balls (I use a medium scoop to make all of the cookies exactly the same size) and place 2 inches apart on an ungreased cookie sheet. Press down the on the top of each cookie (I use a flat-bottomed glass) to form a patty. Bake 12-15 minutes. Makes about 30 cookies.