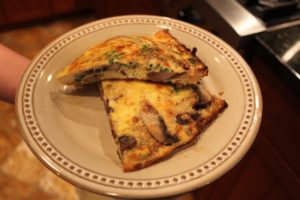 It's a snow day here in Rhode Island! The kids are home from school and we are expecting 12-18 inches of snow! Ultimately, the question arises… "what should we eat for breakfast"?!? Well, this hearty, savory frittata is just what this snowy day calls for! And since the kids slept in, this was more of a brunch than a breakfast.  🙂  The meatiness of the mushrooms certainly satisfies even the hungriest of stomachs, whether it's snowing where you live or not!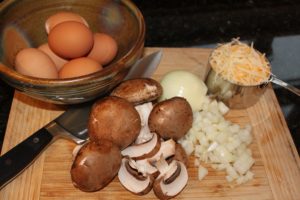 1 cup white onion, diced
2 cups sliced baby Bella mushrooms
4 tbsp butter
6 eggs
1/2 cup milk
1/2 tsp salt
1/4 tsp black pepper
2 tbsp. Fresh parsley, chopped
1 cup shredded cheddar cheese
Preheat the oven to 450.
Beat the eggs in a medium bowl. Add the milk, parsley, salt and pepper and set aside. Grate the cheese.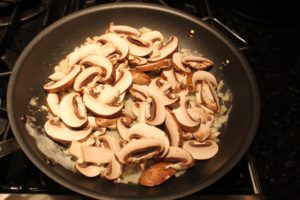 Heat the butter in a 9-inch, oven proof frying pan over medium-low heat. Add onion and sauté until almost translucent. Add mushrooms and cook down a bit, about 4 minutes.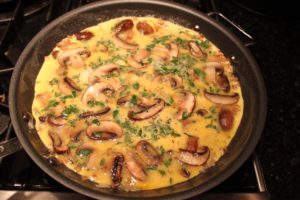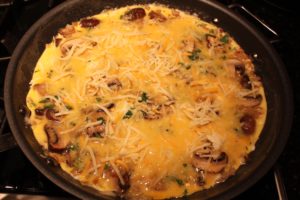 Add the egg mixture and evenly distribute veggies throughout the egg. Top with the shredded cheese. Let cook until the frittata is about halfway set. Transfer the pan to your hot oven and set to broil. Cook until golden brown, puffy and set on top, about 3-5 minutes depending on your broiler.