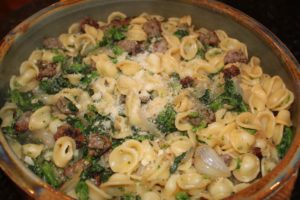 It's a rainy, raw spring day in the Northeast. So I'm feeling the need to warm things up (maybe Mother Nature will reciprocate)! 🙂 This dish is hearty, garlicky, and gets a nice kick thanks to some crushed red pepper flakes. I like to use mild sausage and add the heat myself in this way. It gives me more control. If you like hot Italian sausage, feel free to use that instead!
1 lb. mild Italian sausage, removed from casing
1 lb. orecchiette pasta
1 bunch broccoli rabe
1 large onion, sliced thin
3 cloves garlic, minced
3 tbsp. olive oil
4 tbsp. butter
kosher salt and freshly ground black pepper, to taste
crushed red pepper flakes, to taste (I use 3/4 tsp. for a little kick)
1/2 cup to a full cup pasta cooking water or chicken stock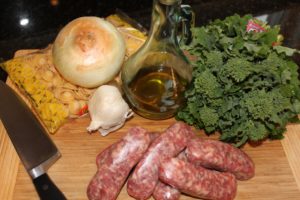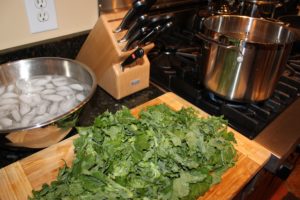 Bring a large stock pot of water to a boil. Chop the broccoli rabe into bite sized pieces, then boil for 3 minutes. Skim it out of the water and into an ice bath. This will take a little of the bitterness out of it, and keep it looking beautifully green. Strain the broccoli rabe and squeeze really well to get rid of any extra water. Break it apart and set it aside. I put it into my serving bowl. I'm using it anyway, so why dirty something else? Cook the pasta in the same water according to package directions (add some salt). Just before draining the pasta, scoop out about a cup of the cooking liquid. Strain pasta.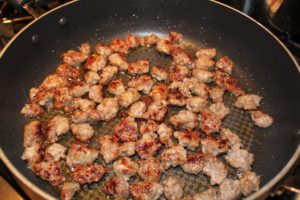 Meanwhile, in a large saute pan, break up the sausage and saute it in the olive oil over medium low heat until nicely browned. Remove the sausage with a slotted spoon.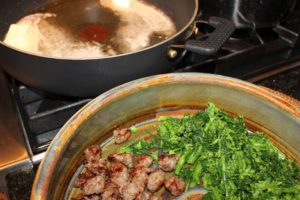 I put the cooked sausage in with the cooked rabe. Add the butter to the pan and add the sliced onion, salt, and pepper.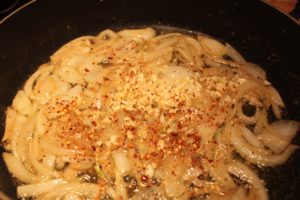 Cook the onion over medium low heat until translucent and caramelized, about 10 minutes. Add the minced garlic and red pepper flakes and cook for one minute until you can smell the garlic.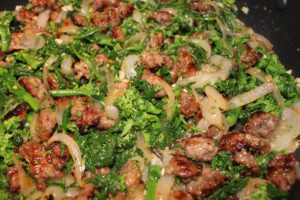 Turn the heat down to low. Add the sausage, and rabe back into the saute pan and toss to combine with the onions.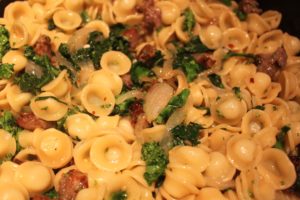 Toss in the pasta and 1/2 cup of the cooking liquid. Toss to combine. If it looks a little tight, add more water or chicken stock. The amount of water you use will depend on the pasta you use, and how well you squeeze out the rabe. I typically use between 1/2 cup and a full cup. You don't want it runny, but you don't want it dry, either.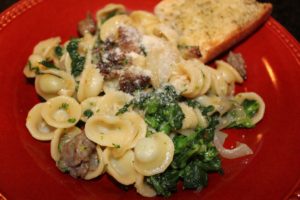 Serve with grated parmigiano reggiano cheese and a nice garlic bread!