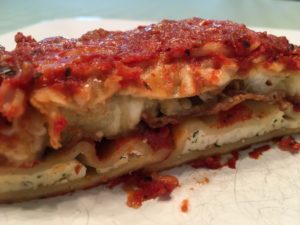 Okay, I really didn't know what to call this! Some kind of lasagna? No, that's not right. This idea germinated as I was trying to come up with an easier way to serve some of our favorite dishes. Typically, when I make my Sunday gravy I will also make a lasagna and/or eggplant parmigiana. If we don't eat the lasagna that day, I will freeze it. If we decide to have the eggplant parm, I will make a dish of macaroni to go with it. So, this recipe is a combination of the two. Luscious ravioli layered with eggplant and mozzarella – yum! I really hope you enjoy it – my kids love it!
This recipe takes some time to put together because you have to fry the eggplant first. You can certainly do this step a day or two ahead of time, but I can't because my kids devour this fried eggplant as soon as it comes out of the pan! So if you make it ahead, hide it in the back of the fridge so it's still there when you want to use it! 🙂
I use my own marinara sauce for this recipe. Start the marinara sauce first. This way it can simmer away while you fry the eggplant. If you are using jarred sauce, or you have some of your own already made, you can skip this step.
Ingredients
1 large jar marinara sauce (*or make my recipe, see below)
1 dozen large cheese-filled ravioli
1 medium eggplant
3 cups all-purpose flour
3 eggs
2-3 cups shredded mozzarella cheese
Grated parmesan cheese
Corn oil for frying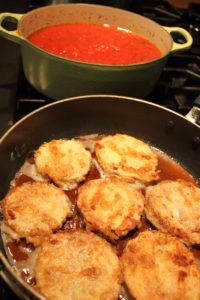 If you are using store-bought sauce, or if you already have some of your own, heat it in a saucepan on low heat. If not, make my marinara sauce (recipe below).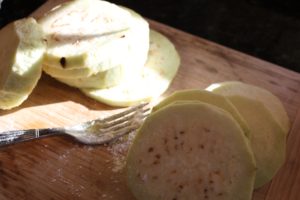 Now you can start cooking the ravioli and frying the eggplant! Get some water boiling and cook the ravioli for half the recommended time. The ravioli I bought had a recommended cooking time of 8-10 minutes and I cooked them for 5 minutes. Drain and set aside.
For the eggplant:
Beat the eggs in a shallow bowl (I use a pie plate). Place the flour in another shallow bowl. Peel and slice the eggplant into 1/2″ thick slices. Heat the oil over medium low heat in a large skillet. Coat each slice of eggplant first in the flour, then the egg, then flour again. Place as many pieces as will fit in a single layer into hot oil and allow to brown on both sides until slightly crispy on the outside and tender in the center. Drain on paper towels. Repeat with the remaining pieces of eggplant.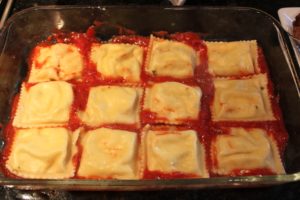 Time to assemble!! Line a 13 x 9 baking dish with a moderate layer of marinara sauce (1/3 of the jar). Arrange the cooked ravioli in a single layer on top of the sauce.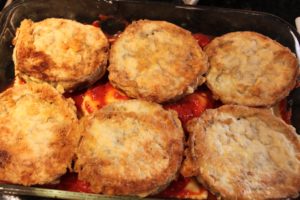 Top with more sauce (1/3 of the jar). Arrange the fried eggplant in a single layer on top of the sauce.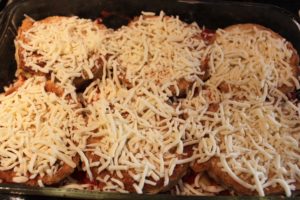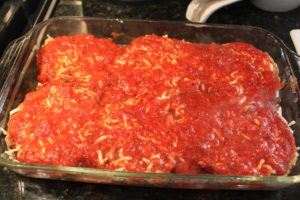 Cover with shredded mozzarella. Top with more sauce (the remaining 1/3 of the jar). Grate fresh parmesan cheese on top.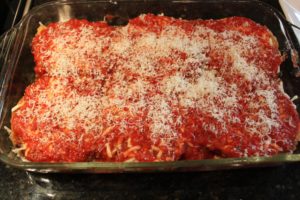 Bake uncovered at 350 for 40 minutes until hot and bubbly! Share with friends!
*Marinara Sauce
2 28-oz. cans ground, peeled tomatoes
1 14-oz. can Hunts sauce
3 cloves garlic
6 tbsp. corn oil
1/2 tsp. kosher salt
1/4 tsp. ground black pepper
3 tbsp. garlic powder
2 tbsp. sugar
Dried basil
Heat the oil in a heavy-bottomed pan (I use a small Dutch oven) over low heat. Add the garlic and cook until slightly brown and just barely fragrant. Remove the garlic from the pan. Add the Hunts sauce and cook for 2 minutes. Add the rest of the tomatoes and all of the spices except the basil. Stir to combine. Sprinkle the basil to cover the top of the tomatoes. Stir to combine. Cook slowly, stirring often so the sauce does not burn on the bottom, for roughly 30 minutes.