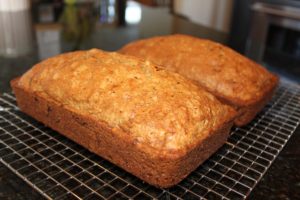 What can I say… Easy, delicious bread. Super easy prep and cleanup. Did I mention how easy this is to make??? 🙂 I love making this in the morning before everyone gets up. It's super fast to put together and makes two loaves, so you can enjoy one and freeze one for another time (or, even better, bring one to a friend)! I love so many things about this recipe. The flavor, the ease. But one of the best things about this Zucchini Bread recipe is the super easy cleanup! I mix all of these wonderful ingredients in one bowl! And you can get away with using a 1/2 cup measure for all of your dry ingredients. I am confident that this is a recipe you will make again and again.
3 extra large eggs, beaten
1 cup canola oil
2 cups sugar
2 cups grated zucchini (about one medium zucchini; peel the zucchini first)
2 tsp. vanilla
3 cups all-purpose flour
1 tsp. salt
1 tsp. baking soda
1/4 tsp. baking powder
3 tsp. cinnamon
1/2 cup chopped nuts
Cream cheese, for serving
Preheat oven to 325. Spray 2 loaf pans with non-stick spray and set aside.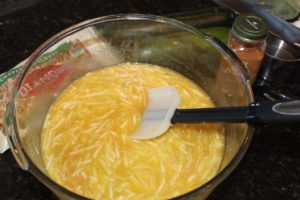 Add the first 5 ingredients to a large bowl in the order listed above, mixing with a spatula or wooden spoon after each addition. The picture above shows the eggs, oil, sugar, zucchini and vanilla.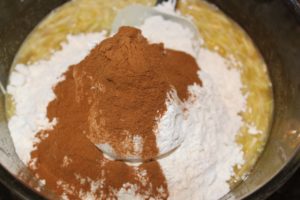 Add the flour. Note: After adding the flour, add all of the other dry ingredients, then mix them together before folding them into the wet ingredients. Or sift them together if that makes you happy. I don't want to clean the sifter, so I do it like this…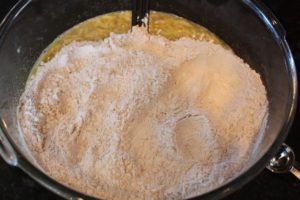 This will ensure equal distribution of your salt, baking soda, baking powder, and cinnamon. Fold the dry ingredients into the wet until fully incorporated. Then fold in the nuts. Voila!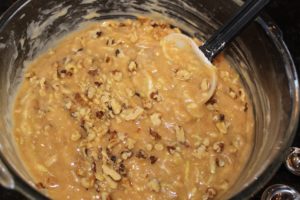 One bowl cleanup! Yippee! Equally distribute batter into your previously greased loaf pans. Bake at 325 for 1 hour. Makes 2 loaves.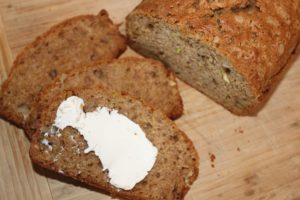 This Zucchini Bread is moist and delicious on its own. Really. But I like to serve it with a slather of cream cheese. My family enjoys this for breakfast, as an after school snack, or a treat before bedtime. It freezes beautifully and is a staple on our camping trips (I put a frozen loaf or two in the cooler to keep our dairy items cold)! It's a real crowd pleaser on those chilly mornings huddled around the campfire, or after an afternoon of fishing or hiking! And it defrosts pretty quickly at room temperature.