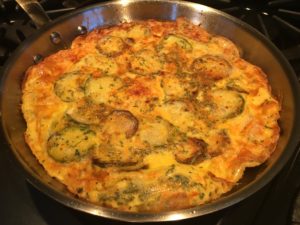 This is one of those recipes I grew up eating. It's the perfect recipe to try out on the kids when they're little and you want to get more veggies into them. And like many of my recipes, this is a method. So if you don't like zucchini, use fresh tomatoes, or last night's leftover asparagus. This frittata is perfect just as it is with a glass of juice for breakfast, or you can fancy it up and serve it alongside a nice salad for a very beautiful and healthy brunch. It can be served right out of the oven, at room temperature, or cold. It heats up beautifully in the microwave, too! Zucchini Frittata is definitely one of my go-to recipes during those wonderful summer months when you have more fresh-from-the-garden zucchini than you know what to do with! But honestly, we enjoy it any time of year. And it is a lovely dish to make for overnight guests.
1 medium zucchini, peeled and sliced into 1/4″ thick disks
2 slices American cheese
9 eggs
3 tbsp. grated cheese
3 tbsp. parsley
Salt and pepper to taste
2 tbsp. butter
Corn oil for frying
Preheat oven to 450.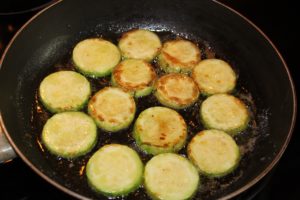 Heat 1/2 cup corn oil in a 9-inch, oven proof frying pan over medium-low heat. Add zucchini disks, as many as will fit in a single layer, and sauté until a bit brown on both sides. Drain on paper towels, and repeat until all of the zucchini is cooked. Reserve the oil in the pan.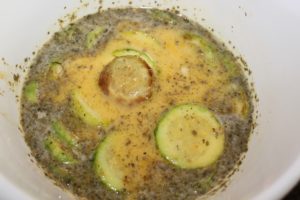 Meanwhile, in a medium bowl, beat the eggs, grated cheese, parsley, salt and pepper. Rip the American cheese into bite sized pieces and stir into the egg mixture. Add the zucchini to the egg mixture and stir to combine.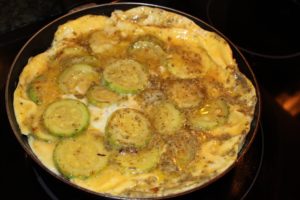 Add 2 tbsp. butter to the reserved oil in the frying pan and melt over medium-low heat. Move the melted butter and oil around the pan to coat bottom and sides. Add the egg mixture and evenly distribute the zucchini throughout the egg. Let cook over medium-low heat until the frittata is about halfway set. Transfer the pan to your hot oven and set to broil. Cook until golden brown, puffy and set on top, about 3-5 minutes depending on your broiler. Enjoy 🙂